Nutter Butter
2019 Brand Relaunch

AdWeek
Better Homes & Gardens
2019 Best Design, Global (Mondelez Internal Awards)

1969 saw the birth of Nutter Butter cookies. In 1973, the brand's first (and last) TV spot ran.

The 50th birthday of America's nuttiest cookie was the perfect moment relaunch the brand for the nuttiest generation yet––Gen Z, a generation nostalgic for a past they never lived.

Our time-traveling campaign brought teens back in time with retro-inspired packaging.
New @NutterButter social channels gave fans a peek into 50 years of nutty moments.
And the Internet's nuttiest influencer, Johnny Cupcakes, hosted birthday bashes at 7-Eleven flagships.

Nuttiness isn't back. It's been here all along.

VP/CD: Julie Clark
ACD: Amy Creyer
Sr. Art Director: Jessica Wuller
Sr. Copywriter: Alyson Capolarello



Case Study
(never submitted for industry awards)
Video Spots
:15 "Nutty Styles Change"
:15 "Nutty Birthdays"
:15 "Born in 1969"
:06 "Twitter Time Warp"
:06 "1969 Nutty Psychedelia"
:06 "Tap-to-Pause Portraits"
Organic Social Content

In-Store Promotion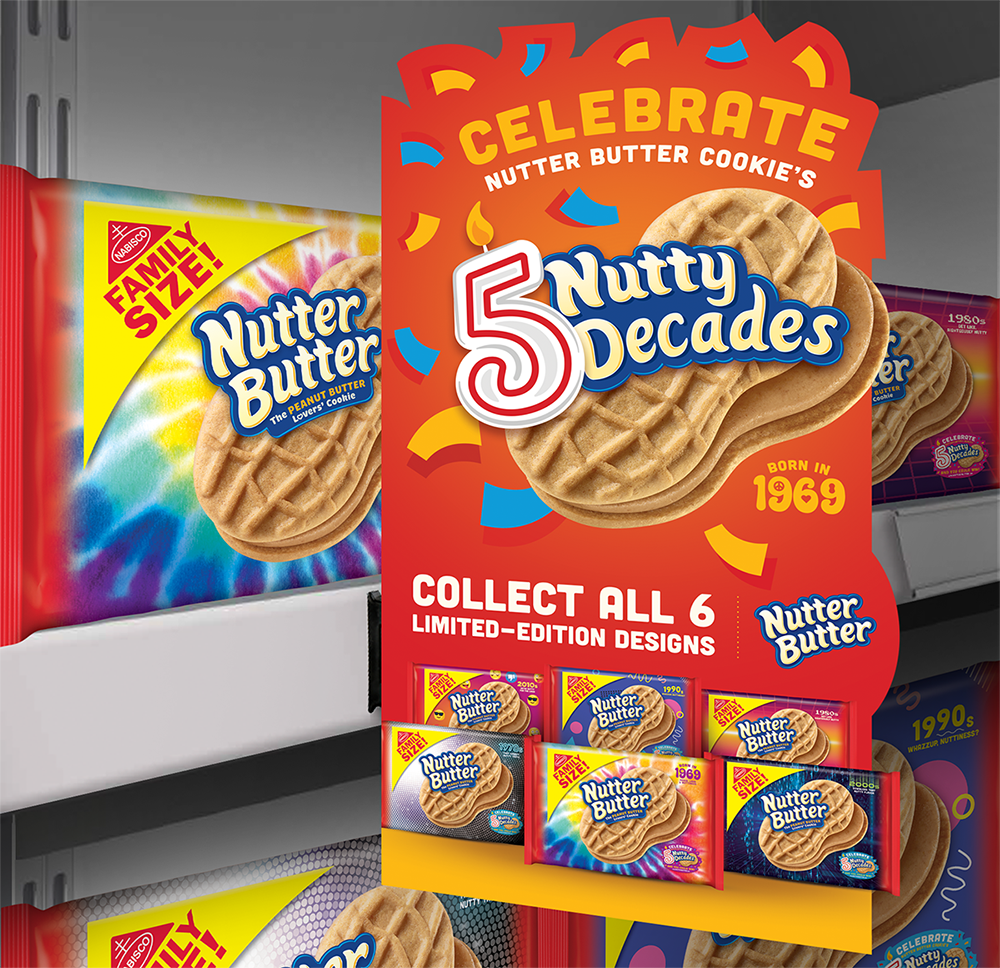 50th Birthday Party @ 7-Eleven
Nutter Butter x Johnny Cupcakes T-Shirt Drop
June 12, 2019

To take our birthday bash to the next level we collaborated with Johnny Cupcakes, one of the internet's favorite t-shirt designers, to craft a limited-edition shirt collection inspired by our six throwback birthday photos.

The world's biggest convenience store, 7-Eleven, opened its doors to host the nutty birthday festivities in the heart of New York City! And when you're 7-Eleven, forget boring birthday cakes––we turned the traditional coffee-and-donuts run on its head with a nutty twist, launching Nutter Butter Long John donuts and a Nutty Cappucino!