2021 Sprite Canada
Brand Refresh

Ask anyone who's been through adolescence. Finding yourself is a process.
And now thanks to Sprite, it's a little bit clearer.

VP/GCD: Glen Peden
CD/Design: Antonia Goga
ACD/Copy: Amy Creyer
Sr. Designer: Andrea Taylor
Jr. Designer: Liam Murphy




National Digital Shelf Revamp

Challenge:
Make Sprite stand out at shelf for Gen Z.

Insight:
Gen Z is questioning everything and can see through anything. Transparency = trust.

Idea:
HITS LIKE THE TRUTH
Drop the filters and get real with a Sprite.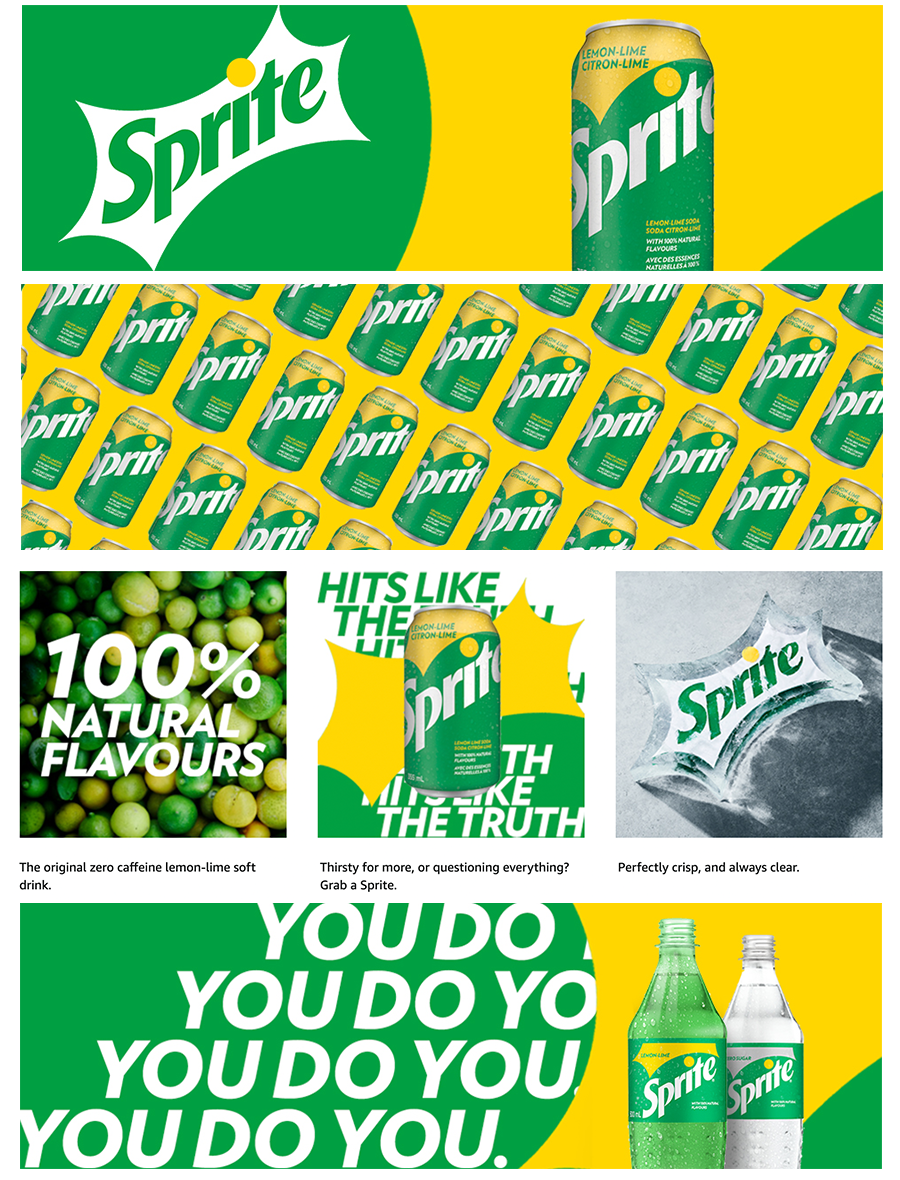 Sprite Long-Form Product Copy at Digital Shelf
Life is an adventure. Who needs a map when the challenge of figuring it all out is half the fun? In those moments when everything becomes clearer, you'll know you were on the right path all along. Whether you're thirsty for more, or questioning everything, Sprite is on your side.

It's the lemon-lime flavoured soft drink that's perfectly crisp, and always clear. Sprite is the zero caffeine soda that ignites your senses to keep you on your toes with its cool, satisfying, and refreshing citrus taste. It's a crisp fizz that doesn't compromise, and refreshes on its own terms. When it comes to lemon-lime flavoured drinks, choose the one and only Sprite.

Sprite never fails to deliver exactly what it promises, every single time. It's the crisp and delicious, lemon-lime refreshment that always hits like the truth. After 50 years Sprite isn't a trendsetter; it's a classic, and always will be. So when you're ready to drop the filters and get real with your soft drink choice, grab a Sprite.
Walmart Canada Integrated Commerce Program


Challenge:
Inspire Gen Zers' parents to reach for Sprite.

Insight:
Adolescence is hard on parents and their kids alike. Brands can support both by faciliating peaceful self-reflective moments, like listening to music privately.

Strategy:
Enhance solo music moments at-home or on-the-go.

Idea:
GRAB A SPRITE. LISTEN CLEARLY.
Bring clarity to streaming moments with a high-quality headphone giveaway.


BASE PALLET DISPLAY


eCOMMERCE INTEGRATION
WOW PALLET DISPLAY
SMALL POS TOOLS + FREE-STANDING DISPLAY